Choose natural ingredients over chemical-based products for your pet, family and environment!
Our top seller product – P.A.W.S is a lifesaver for any furkids with common skin issues such as rashes, hot spots, bacterial and yeast infection.
You can even use it just to clean their feet after walkies to effectively remove dirts without *water. Quick, clean, easy, safe & germ free solution.
*Normal water content is actually the root cause to many skin problems in humid countries such like Malaysia & Singapore.
1) Made with 100% safe and natural ingredients
2) Easy to use ~ just spray, wipe & let it dry naturally
3) Multi-purpose (refer to usage tips tab)
4) Chemical and alcohol free
5) Safe on sensitive skin
6) Eliminate bacteria, virus and odour
7) Relieves skin irritation
7) Suitable for pets of all ages
For dogs with skin issues, recommended to pair P.A.W.S spray with Body Healing Balm.
Made in Singapore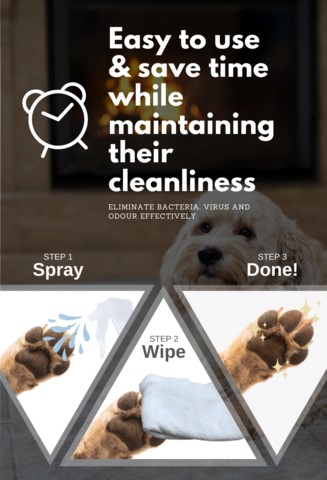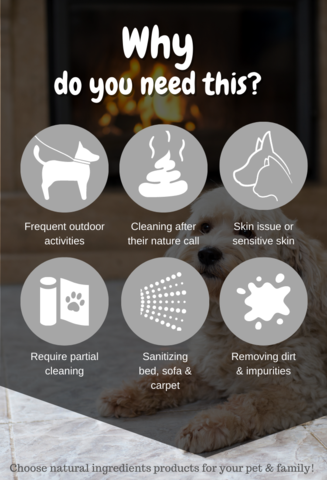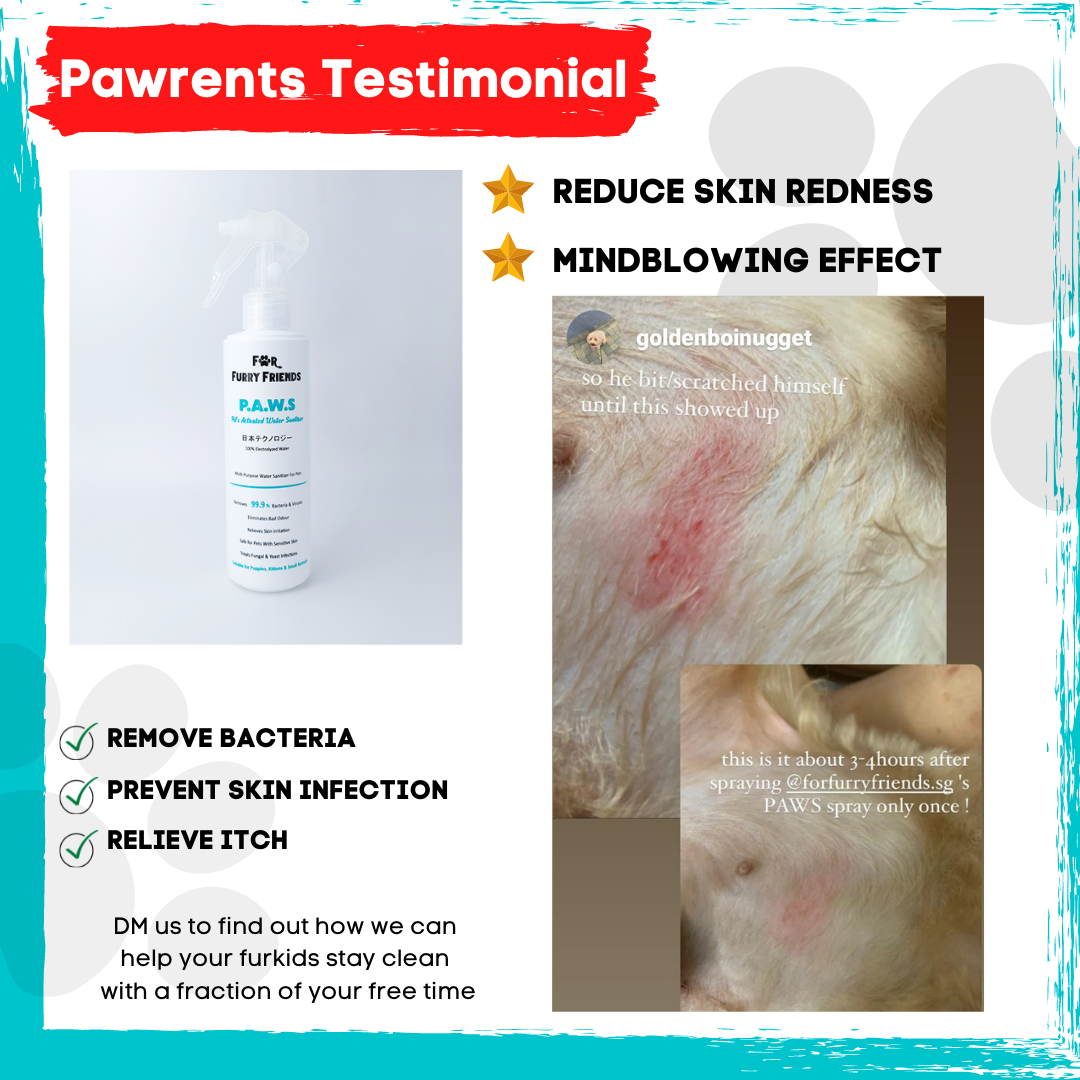 Ingredient
Ingredient : 100% Electrolyzed Water
Our electrolyzed water creates an environment that bacteria, yeast and fungus cant survive when get in contact. It is gentle and safe for our furkids but deadly for bacteria, viruses, yeast, fungus and even ringworms.
Volume: 250ml (spray bottle)
Storage: Keep out of direct sunlight
Best before 30 months after opening
How to Use
Step 1: 𝑺𝒑𝒓𝒂𝒚 on any part of the body, paws and even surfaces. (this will be able to remove bacteria, viruses, yeast and odour)
Step 2: 𝑾𝒊𝒑𝒆 with a dry cloth, tissue or kitchen towel (this step is needed to wipe off dirt, dust, flower pollen, foreign objects on the fur, paw, skin and surfaces.
Step 3 : Let it air dry naturally
* 𝑺𝒑𝒓𝒂𝒚 to soak again for fungal, yeast and ringworm infections.
Usage Tips
How to use 𝗣.𝗔.𝗪.𝗦 for eyes, mouth and nose area?
Please 𝑺𝒑𝒓𝒂𝒚 onto a dry clean cloth or cotton wool and wipe gently. DO NOT spray directly to their eyes or nose.
It will be an excellent practice to 𝑾𝒊𝒑𝒆 the tear duct area after they wake up or their mouth after a delicious meal. (Do not spray directly into eyes and nose area
Maximize the usage of P.A.W.S :
https://www.clubpets.com.sg/for-furry-friends-6-common-pet-issues-that-p-a-w-s-tackles/
Video
1) Bacteria and virus test result with P.A.W.S :
https://www.youtube.com/watch?v=pp94x-9YWmw
2) For Furry Friends P.A.W.S Commercial
https://www.youtube.com/watch?v=B3uv84cRkYY