Sherlock Holmes or Kate Middleton Style
Discover The Iconic British Style and transform our furbaby in just blink of eye

The set comes with a beret, cape & bow tie are versatile accessories which is removable to be attached on your own collar or match with other cloths.
Handmade with high quality tartan plaid design fabric which is dyed before being woven into cloth.
Mix & Match : This set is so flexible and you can use it to match with other accessories of your existing collar or harness, you can mix and match new accessories for a new look every day.



Product Details
Origin : Handmade in Taiwan
This set comes with :

Reversible Pet Cape X 1 piece
Pet Beret X 1 piece
Bow Tie X 1 piece



Suitable for Dogs & Cats
How to Wear the Beret
The beret comes with a thin elastic strap to be worn over the ear & under the chin of the pet.
Size Measurement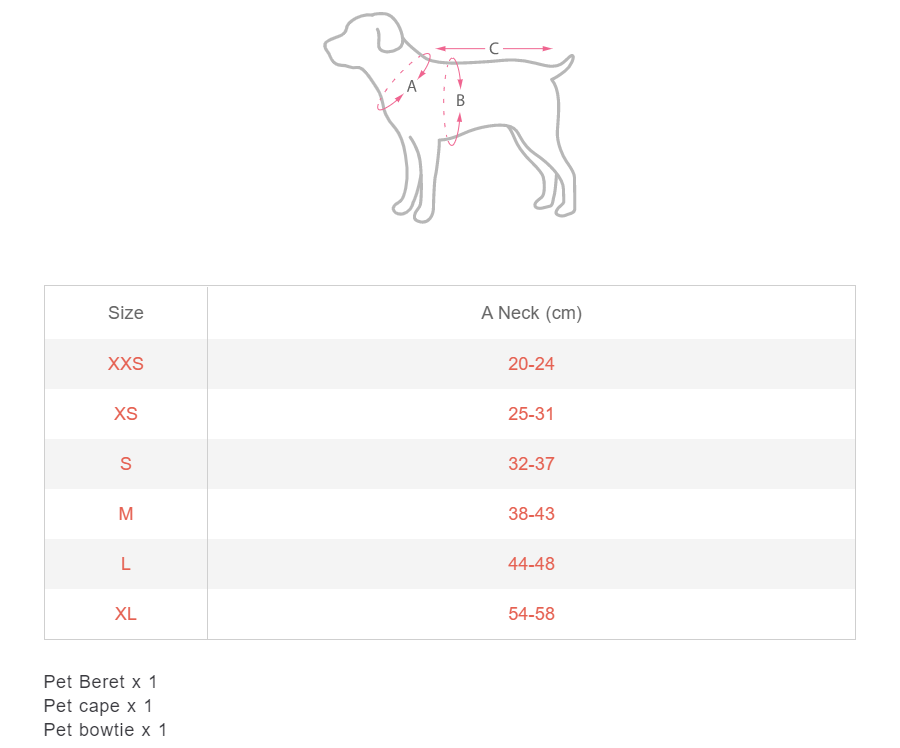 Size
Measurement
2XS:Neck Width: 20-24 cm
Cat, Chihuahua, Maltese, Puppy,

XS:Neck Width: 25-31 cm
Larger sized Cat, Chihuahua, Maltese, Puppy

S:Neck Width: 32-37 cm
Dachshund, Poodle, Yorkshire, Schnauzer

M:Neck Width: 38-43 cm
Larger sized Dachshund, Beagle, Shiba Inu

L:Neck Width: 44-48 cm
Corgi, Bulldog, Sheltie

XL:Neck Width: 54-58 cm
Husky, Labrador, Golden Retriever
Attention : Must measure your pet's neck size before placing order as the item is not exchangeable